Racing Harnesses: Expiry, Rules and Regulations | Racing Seatbelt Standards and Expiration
What is a Racing Harness?
A Racing Harness is the key structural safety component that keeps a driver firmly positioned into the driving seat.
Commonly referred to as a Seat Belt, a Racing Harness comprises of 4, 5 or 6 belt sections that secure to each other using a quick-release buckle.
A Racing Harness, as the name would suggest, is normally found within racing cars, but are also found in other motorized sports, such as Speedboat Racing, Air Racing, Rallying and more.
Most official racing harnesses are available in three different types, 4 point harness, 5 point harness and 6 point harnesses. The variation is due to the configuration of the 'lap belts' (the belts that cover the driver's legs and waist).
4 Point Harness – found in some road sportscars and also common in Classic/Historic racing where ruling allows. Not allowed in most forms of motorsport.
5 Point Harness – this is now the older style harness which includes one singular belt that reaches up between the drivers' legs. These are now not permitted for motorsport use.
6 Point Harness – now the industry standard for motorsport use, denoted by the FIA and SFI regulations for racing safety.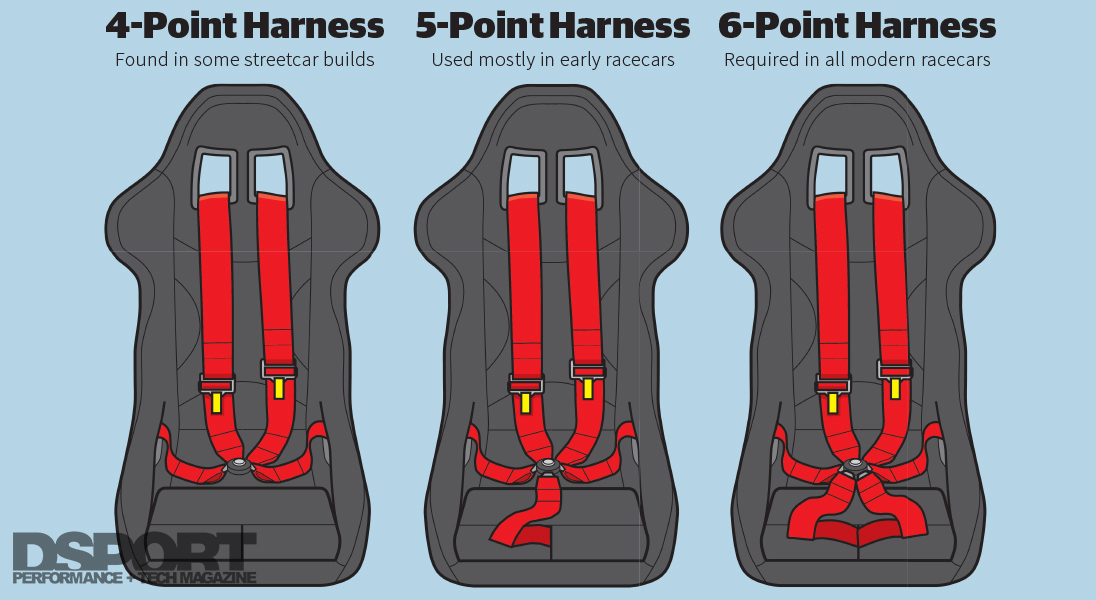 When it comes to Harness Safety and Standards there seems to be much confusion and miscommunication. To rectify this, included within this article are some helpful notes relating to FIA and SFI standards and how to check for expiry and product fatigue.
FIA vs SFI Racing Harness Regulations and Standards
There are two official standards for racing harnesses in all forms of motorsport, these are:
The FIA are the sanctioning Autosport authorities, who control the rules and regulations related to Motorsport and Motorsport safety. When it comes to racing harnesses, the FIA have a strict and detailed testing homologation process that is performed on all new Racing Harnesses.
The SFI are an American based, non-profit organization that issues and administers standards for racing equipment (including belts). The SFI standards are commonly used in oval racing and include championships like NASCAR, ARCA and NHRA drag racing but can also be used in other forms of motorsport.
What are the differences?
To start with, the FIA standard of belts is more rigorous, quality orientated and longevity minded. This is not to say that SFI belts are inferior. The FIA receives considerably more funding than the SFI and can therefore perform and validate belts to the tenth degree.
FIA belts are homologated to standard 8853/98. The full testing specs for the FIA homologation can be found here.
The full testing specs for the SFI standard can be found here.
The FIA standards will cover you for almost all forms of motorsport under their autocracy. Whereas not all championships will be covered by SFI standards. If you intend on competing in a Motorsport series, I would strongly advise checking your championship's specific rules and regs for clarity.
Most well-known racing harness brands, such as OMP, Schroth, Tillet and more will be manufactured to FIA standards.
What to look out for when buying a Racing Harness:
1. Racing Harness Expiration Dates
When buying racing belts, the first thing you should do is check the tags and labels on the belts themselves. By rules, each individual belt in a set will have its own labels, so make sure to check all the belts and not just one.
On each label, you will be able to determine if they are FIA or SFI standards (the difference between the two standards will be listed below).
From the labels, you will also be able to determine the expiration dates of the belts, these will be clearly recognizable on the label.
Figure 1 - SFI standard labels
Figure 2 - Example of FIA Homologation Label
FIA belts are valid for 5 years from the 1st of January, after the year of manufacture. Meaning, if the belts were made in March 2015, the belts will be valid for 5 years from January 2016. FIA belts are usually constructed using Nylon fibers, which have proven cycle life and degradation properties for motorsport use.
SFI belts have a 2-year expiration. This is partly due to two factors, material choice and webbing pattern. SFI belts are commonly built using Polyester which is shown to be less durable than the Nylon counterpart.
2. What to do when your belts have expired
Due to new regulations by both the FIA and SFI belts now must be replaced when they have passed their expiry date. Expired belts can be reused however in open trackday events and other non-regulated uses, such as road cars.
3. Manufacturer
When choosing belts for your race car, I would strongly advise buying from a reputable dealer and a well-known manufacturer, such as: OMP, Sabelt, Schroth, Sparco, Corbeau, and more.
It isn't unheard of for people to buy knock-off, fake branded seat belts, to later find that their labels are invalid for motorsport use. Please be careful here!
I would also suggest avoiding buying second-hand belts when you can. This is due to several reasons, firstly is the expiration date and secondly, belt quality and shelf life. It can be hard to tell when seat belts have been 'used and abused'. For more on what to check, see below.
4. Belt Safety and Maintenance
No matter how expensive, how safe or how tight you have your belts, they are only as safe as the manor in which you mount them to the vehicle. This is a complex and strategic procedure so please make sure you follow the manufacturer's guidance when installing belts.
There is a great guide from Tillet which you can follow here. 
Some quick key advice for mounting:
Use the manufacturer's recommended anchors
Do not twist the belts from the anchor to the quick-release latch
Ensure that all sharp edges (such as seat edges) are smooth and there is little pressure between them and the belts
Ensure that the lap belts are tight against the driver's legs before tightening the shoulder belts.
Do not leave any slack between the anchor and the seats.
With regards to maintenance, seat belts need very little to keep them going. Keeping them dry and clean is a good starting point and avoid sunlight when storing will help keep shelf life. Racing belts are known to degrade when exposed to UV rays.
Basic checks for belt life should be made before and after every time they are used. Basic checks can include:
Tugging on the belts to ensure there is no flex or movement.
Checking for rust and cracks around the seat belt anchors.
Checking for fraying and scratching of belt material.
Checking the quick release latch for play or stiffness.
Here at Fast Racer, we offer racing harness, 6-point harness, 5-point harness, 4-point harness crafted by some of the leading brands in the sports. Check out our collection.
Author: Matt Lambert.
Date: 6/24/2021.